Marketing Your Voice Over Talent Demos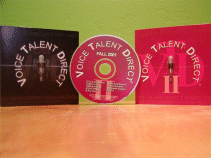 Being a voice over talent is one thing, but getting the jobs is something completely different!
Be heard! Utilize Marketing Mania's efforts to bring your voice to the forefront of the voice over industry. Marketing Mania has the following marketing services available to professional voice over talent:
Join Our Voice Over Roster (if you are already a professional)
We define professional voice talent as those who are available almost immediately 9am to 6pm Monday through Friday, have their own studio, are able to upload mp3 files to our website and have the availability to phone patch from their studio. Access to an ISDN transceiver at no additional charge if we are originating the connection is seen as a plus and you will be considered more seriously for our pool if you do have one. It is also seen as a plus if you have all of the required demos as you will be more bookable to us if you do have them.
One other requirement is that you have NOT signed away exclusivity to a talent agency. We do not require exclusivity to our company, but you must have completely open relationships with other agencies you work with in order to work with us. Simply put, we do not work through talent agencies to book talent or contract them on retainer.
We have significantly "CHANGED" the way we do business now with North American talent who are English speaking talent residing in Canada or the US. We no longer charge a subscription fee every year. We only charge a "one" time set up fee of $199 to set you up on the website and run a marketing campaign about you with our client base to let them all know that you are now available to them. Not all who apply for inclusion for the English speaking roster (as there are a limitless number in all skill levels) will be accepted to join our online roster. To apply for inclusion, send an email to us with your full name and ENGLISH Voice Over Talent Submission in the subject line. We will require the following demos as mp3 attachments or in a zip to review for inclusion.
Narration demo- NO MUSIC
Commercial Demo
Characterization Demo
On Hold/Telephony Demo
TV Promo or Radio Imaging (Both if you have them) These would be a bonus to you and us, but not required.
If you are a foreign talent, there are NO listing or advertising fees to list your demo on this site. If interested, put your GENDER and YOUR LANGUAGE in the subject line of the email and send 2 voice only demos as mp3 attachments. 1) narration demo & 2) a telephony demo. Your email body must have the following information: name, address, time zone, home phone and cell phone along with any other alternate email address you use and PayPal email address if you live outside of North America. If these directions are not followed, your submission will not be considered for inclusion on our talent roster.
Demo Creation or Assembly
Whether you are looking to have your demo refreshed or are new to the business and need a demo made from scratch, Marketing Mania has the know how and tools to make your demo burn up the competition.
If you plan to REFRESH YOUR VOICE OVER DEMO, send us some or most of what you already have. Our demo consultant will send you more copy in other genres like commercials, narrations, imaging, on hold messages, or promos at your request. Send us your old audio files mp3 or on CD along with the new stuff you just read. We'll add a great intro and make your demo cook! If you are simply interested in getting scripts so you can build your own demo, we'll be glad to email or fax you as many as you need at $8 per script. Click here, and tell us how many scripts in what genres of voice over you need, enter the total dollar amount for the scripts and the rest is self explanatory. For more info on this service, contact us.
Refresher demo $399
SAMPLE Voice Talent Demo, click here.
If you are NEW to the business and have your own studio or access to one, we'll send you scripts to read for commercials, imaging, narration and on hold messaging. Send your voice tracks back via CD or MP3 and we'll put together a demo that will make you wish you got started in the voice over business sooner! We even include a 1 hour voice coaching session in this package. For more info on this service, contact us.
New demo $699
For Amateurs or Novices:
Click here for Services for Amateurs and Novices.